Keyword Research and Demand
Keyword Research – Are Customers Looking For The Product Or Service You Provide – What Keywords Are In Demand When They Search?
So, What is keyword research exactly?
Keyword research is an integral factor in ranking and receiving the most relevant traffic from your online presence.
Keywords and keyword phrases are the words or phrase that potential customers type into a search when looking for a company offering the product or service they need. If your website utilizes the particular phrase searched and your website is optimized for that keyword, your site will appear in the search results. The level of optimization and marketing determines just how high your website appears in the results.
Keyword research determines the demand behind a particular keyword or phrase, basically how many searchers use that word or phrase to achieve their desired results. The higher the demand for the keyword, often the more difficult it is to rank for.
When people search the internet for a product or service, they most often search a thought or phrase rather than a single keyword. The exception to this is when they search for a particular product name. It is for this reason that we focus of "longtail" keyword phrases. For example, if you wanted to get your car fixed, you wouldn't search for the single word "auto." Rather, you would use a phrase, perhaps, "auto repair shop," or "auto dent removal." these are longtail phrases and are more along the line of how we think. You can only imagine all of the possible keyword phrase variations there are available. Now we dig deep to find out which phrases are used most to reach the type of service of product your business offers.
Keyword Research and ranking difficult "money" keywords is where our proven techniques make the difference!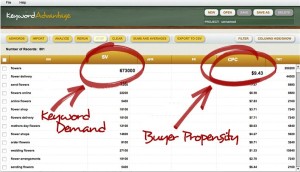 Keyword Research – Demand for Money Keywords
We research the keywords your potential customers use the most, incorporate them into your website and optimize for them to increase your rankings against your competitors.